Tower Mixed Fertilizer Plant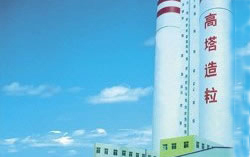 Our tower mixed fertilizer plant is designed based on advanced fertilizer granulation technology.
Working principle of tower mixed fertilizer plant
Firstly, at the top end of this fertilizer granulation plant, raw materials like urea, ammonium phosphate, and potassium sulfate, etc. are mixed together in a special mixer.
Secondly, the mixed materials will enter into a drip-forming machine, and this is also performed at the top end of our fertilizer equipment.
Thirdly, the drops gradually form into solid particles with their dropping down to the bottom of the granulating tower.
Finally, obtained fertilizer will be further cooled by coolers. After screening, we will be able to obtain qualified fertilizers.
Main features of tower mixed fertilizer plant
Our tower mixed fertilizer plant removed the drying system from traditional fertilizer equipment. The drying system usually consumes large quantity of energy. Hence, our fertilizer granulating plant is energy saving.
This fertilizer granulation equipment makes best use of the heat which is produced during urea melting. Produced material has low water content. Hence, there is no need to drying any more.
Urine can be used directly, so our tower mixed fertilizer plant provides more convenience for some fertilizer manufacturers.
This fertilizer production equipment features high granulating rate. There is almost no return product in production process.
Produced fertilizer particles are round and smooth. Their water content is lower than 1% and compressive strength is higher than 30N. Additionally, these particles are not easy to agglomerate.
As a professional tower mixed fertilizer granulation plant manufacturer and supplier, we have over 50 years' production experience for various granular fertilizer equipment and fertilizer units, including organic and inorganic fertilizer equipment, ball mills, ball screws, and so on. Besides, we can also provide considerate services. We can offer fertilizer production line installation and testing, operator training, equipment maintenance consultation, and more. Thus, customers can use our fertilizer production equipment at ease.
If you need any of our products, please don't hesitate to contact us.
Inquiry
Other Products