Urea Granulation Process Equipment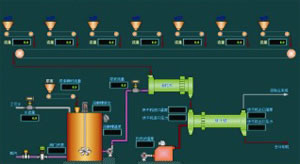 Our urea granulation equipment is jointed developed by our company and research institutes. Its annual output ranges from 30KT to 200 KT.
This type of fertilizer equipment utilizes melted-urea as the main nitrogen source. During granulation process of fertilizer production, melted-urea will be mixed with other raw materials by coating on these materials.
As a matter of fact, melted-urea has several functions during fertilizer production. It firstly functions as a kind of raw material, and then functions as a liquid to participate in granulating process, and finally produces heat which makes drying process easy.
Are you looking for urea-based compound fertilizer equipment?
Are you going to upgrade your existing fertilizer equipment?
If your answer is YES, please don't hesitate to contact us. We can provide not only high quality urea granulation process equipment, but also upgrade services for old compound fertilizer equipment.
The primary component of our urea granulation process equipment is a spray granulation dryer.
We are a urea granulation machine manufacturer in China. In addition to urea-based fertilizer production line, we can also provide many other types of fertilizer equipment, such as NPK compound fertilizer equipment, organic fertilizer equipment, to name a few.
To better serve fertilizer manufacturers, we also offer equipment installation and testing, maintenance, and upgrading, etc. Thus, customers can feel secure to choose our products. If you are interested in our urea granulation process equipment, please feel free to contact us.
Inquiry
Other Products